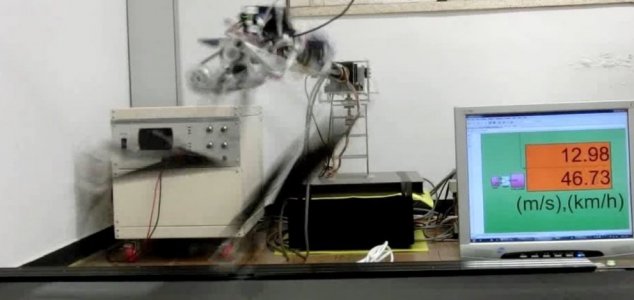 The robot was tested out on a treadmill.

Image Credit: YouTube / BMG KAIST
An amazing new bipedal robot from South Korea is able to run at a top speed of 28.58mph.
Known as the Raptor, the device was put together at the Korea Advanced Institute of Science and Technology. Its moniker is based on how it walks and balances itself in much the same way as its prehistoric namesake.
Constructed from special lightweight materials, the Raptor is the fastest two-legged robot in the world and is capable of reaching a speed exceeding that of Jamaican Olympic champion runner Usain Bolt.
The current record holder for the world's fastest robot is the four-legged Boston Dynamics Cheetah which is able to run at a speed of 29mph.
Source: Metro | Comments (10)
Tags: Robot, South Korea