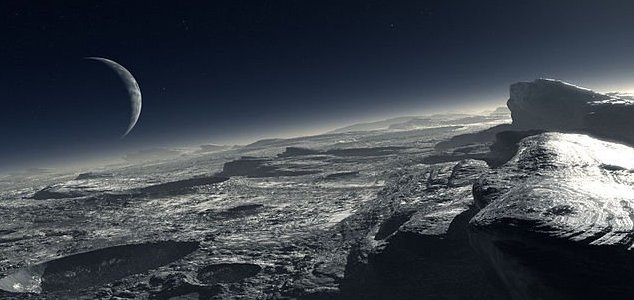 Artist's impression of Pluto's surface.

Image Credit: CC BY-SA 3.0 ESO
New Horizons will be looking for signs of a subterranean sea when it reaches Pluto and Charon next year.
Like Jupiter's moon Europa and Saturn's moon Enceladus, Pluto's moon Charon might have also been home to an ocean of liquid water locked beneath a layer of ice, albeit in the distant past.
Scientists will be looking for signs of cracks in Charon's surface when New Horizons flies by Pluto in 2015 to see if even in the outer reaches of the solar system there could have once been an environment in which life might have been able to develop.
Today Charon and Pluto are tidally locked so any subsurface ocean will have long since frozen, but the telltale signs should still be there.
"Our model predicts different fracture patterns on the surface of Charon depending on the thickness of its surface ice, the structure of the moon's interior and how easily it deforms, and how its orbit evolved," said NASA's Alyssa Rhoden.
"By comparing the actual New Horizons observations of Charon to the various predictions, we can see what fits best and discover if Charon could have had a subsurface ocean in its past, driven by high eccentricity."
Source: NBC News | Comments (3)
Tags: Pluto, Charon