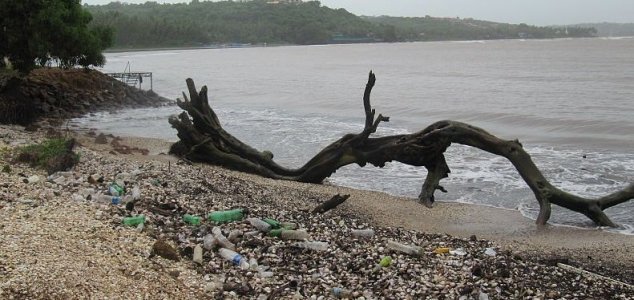 Plastic waste can be found washed up on beaches around the world.

Image Credit: CC BY-SA 3.0 Hajj0 ms
The world's oceans have become a dumping ground for almost 270,000 tons of waste plastics.
With plastic bottles, fishing line and other items of rubbish becoming a common sight on beaches all over the world, scientists have been attempting to ascertain exactly how much waste material there really is in the sea and what impact it might be having on both the ocean's wildlife and on ourselves.
In the results of a new study published in the Plos One journal researchers have for the first time revealed the extent to which items of waste plastic have been affecting the environment.
There are now believed to be an estimated 5.25 trillion individual items of plastic debris floating in the world's oceans along with many more that are likely to have sunk to the bottom.
"Our estimate of the global weight of plastic pollution on the sea surface, from all size classes combined, is only 0.1 per cent of the world annual production," the report stated. "However, we stress that our estimates are highly conservative, and may be considered minimum estimates."
Researchers believe that some of that pollution may even be ending up on our dinner plates.
"When plastic gets into the water it acts like a magnet for oily pollutants," said researcher Julia Reisser. "Bigger fish eat the little fish and then they end up on our plates. Itís hard to tell how much pollution is being ingested but certainly plastics are providing some of it."
Source: Independent | Comments (36)
Similar stories based on this topic:
Tags: Plastic, Environment, Ocean