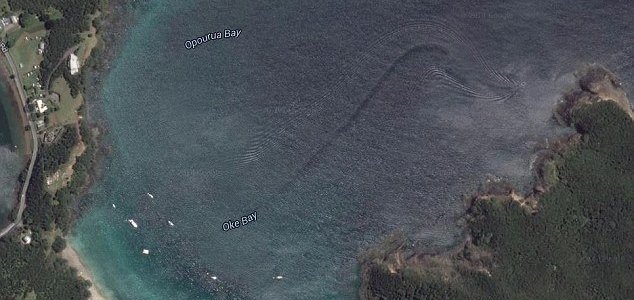 Witehira does not believe that the wake was caused by a boat.

Image Credit: Google Earth
A large unexplained wake in the water off Oke Bay was spotted on a Google Maps satellite image.
Engineer Pita Witehira had been using the online service to research locations for a holiday home when he spotted a strange snake-like wake in the sea off Oke Bay in the Far North District of New Zealand's North Island.
After studying the image Witehira concluded that the wake, which he claims doesn't match that of a boat, may have been left by some sort of large creature measuring 12m in length.
"We have some property near Oke Bay and I'm about to build a beach chalet up there, I zoomed down and found that," he said. "It's way too wide for a shark and way too long."
"It's got to have a lot of weight under the water to create that kind of drag."
Source: Mail Online | Comments (58)
Similar stories based on this topic:
Tags: New Zealand, Sea Monster