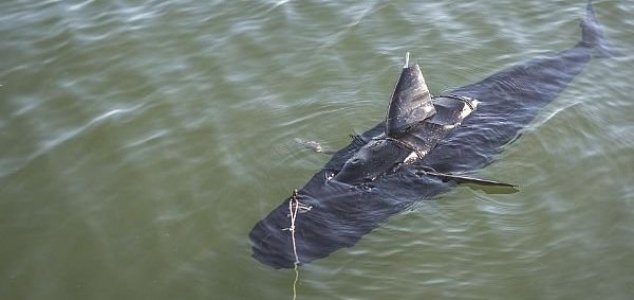 The robot is one of the more unusual additions to the Navy's arsenal.

Image Credit: US Navy
The impressive five-foot-long aquatic surveillance robot looks and moves like the real thing.
The US Navy has experimented with some unusual technologies over the years but this latest project might just take the cake.
Known as GhostSwimmer, the new unmanned underwater vehicle is essentially a robot shark that can be deployed in the ocean for surveillance and reconnaissance missions.
Its development was inspired by observations of real-life sharks and the robot attempts to emulate their movements in the water.
"It swims just like a fish does by oscillating its tail fin back and forth," said Michael Rufo, Boston Engineering's Advanced Systems Director. "The unit is a combination of unmanned systems engineering and unique propulsion and control capabilities."
Source: Discovery News | Comments (21)
Similar stories based on this topic:
Tags: Robot, Sharks