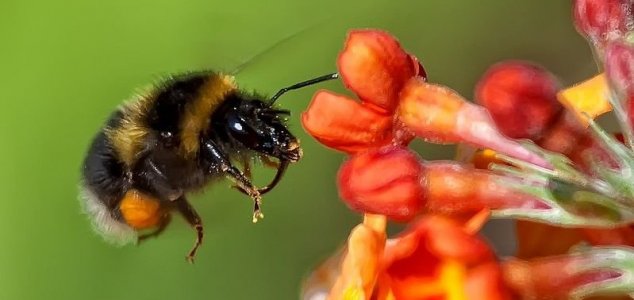 Are young bees being forced to grow up too quickly ?

Image Credit: CC BY-SA 2.0 Mark Winterbourne
Immense pressure being placed upon younger bees may be the key factor in colony collapse disorder.
The disappearance of bee populations in countries all over the world remains one of the most talked about mysteries of our time. With scientists unable to agree on exactly what is causing it, taking action to prevent further bee decline is notoriously problematic.
Now researchers in London have put forward a new theory in an effort to get to the bottom of the mystery which implicates stress as the main contributing factor in the collapse of bee colonies.
The study suggests that as more and more adult bees are being killed by disease and starvation, the younger bees are being forced to grow up too fast in order to take their place.
"Young bees leaving the hive early is likely to be an adaptive behavior to a reduction in the number of older foraging bees," said lead researcher Dr Clint Perry.
"But if the increased death rate continues for too long, or the hive isn't big enough to withstand it in the short term, this natural response could upset the societal balance of the colony and have catastrophic consequences."
Source: The Guardian | Comments (14)
Similar stories based on this topic:
Tags: Bees, Collapse