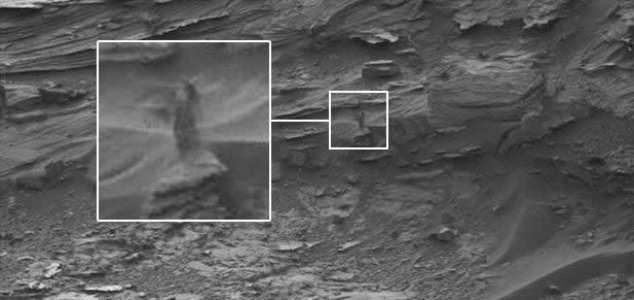 Despite its appearance the 'woman' is actually only around 10cm tall.

Image Credit: NASA
Eagle-eyed anomaly hunters have spotted something that looks like a human figure on the surface of Mars.
It was only last week that a photograph emerged online showing what looked like a large crab hanging out in a crevice on Mars - an anomaly that has since been attributed to pareidolia, the tendency for the brain to perceive meaningful shapes in otherwise abstract patterns.
Just as interest in the 'crab' started to die down however another anomalous object began to make headlines - this time a humanoid figure that looks uncannily like a human woman.
Unfortunately for those hoping that the photograph represents evidence of a civilization on Mars however the scale of the picture is such that the 'woman' is only around 10cm tall.
Given the sheer number of high-resolution images being returned by the Curiosity rover on a regular basis though it is likely that this won't be the last time something unusual turns up.
Source: Yahoo! News | Comments (42)
Tags: Mars, Pareidolia