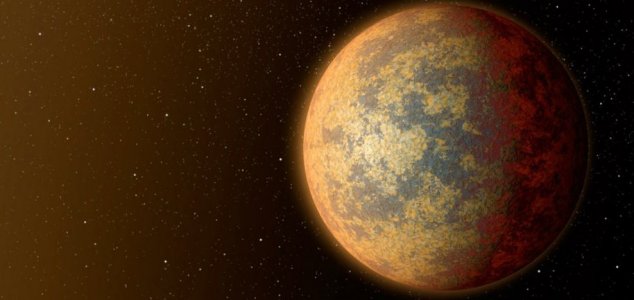 A planet's atmosphere is a goldmine of information.

Image Credit: NASA/JPL-Caltech
For the first time scientists have been able to analyze the atmosphere of a 'super-Earth' exoplanet.
The breakthrough is particularly exciting because by measuring the atmospheric composition of a planet it is possible to determine what its conditions are like and whether or not it could support life.
The planet
55 Cancri e
is twice the size of the Earth, weighs eight times as much and orbits its star so closely that a year passes within 18 hours and its surface temperature exceeds 2,000 degrees.
By applying a new analytical technique to data from the Hubble Space Telescope, the scientists were able to determine that its atmosphere contained hydrogen and helium but no signs of water.
"This is a very exciting result because it's the first time that we have been able to find the spectral fingerprints that show the gases present in the atmosphere of a super-Earth," said study author Angelos Tsiaras, a PhD student at University College London.
"Our analysis of 55 Cancri e's atmosphere suggests that the planet has managed to cling on to a significant amount of hydrogen and helium from the nebula from which it formed."
Source: BBC News | Comments (14)
Tags: Super-Earth, Extrasolar, Exoplanet