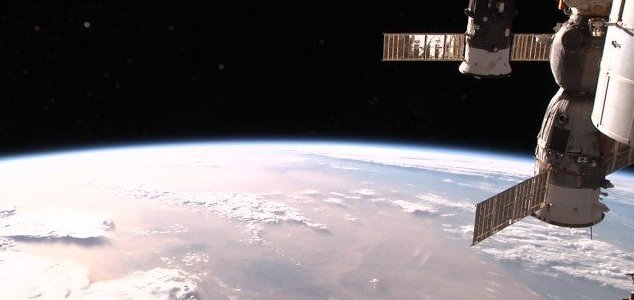 The live feeds pick up views of the Earth in spectacular style.

Image Credit: NASA
The Internet has been awash with claims that NASA is covering up evidence of UFOs in Earth's orbit.
The live feeds which stream some truly spectacular views outside of the International Space Station might seem innocuous enough, but according to conspiracy theorists this week these streaming cameras are being conveniently disabled whenever a UFO happens to be passing by.
The bizarre claim stems from footage recorded on July 9th which shows an unidentified object (which was most likely a meteor) appearing in frame just moments before the feed dropped out.
Theorists swooped on the incident, claiming that it showed strong evidence to suggest that we are being visited by extraterrestrials and that NASA is going out of its way to cover it up.
Unsurprisingly however the feed dropping out is not actually all that unusual or remarkable.
"The feed is not switched manually," a NASA spokesman told Popular Mechanics. "It's all done automatically. There's nobody at a control board. We used a space-based data relay network."
"It gives us a very good coverage area, but you do lose signal occasionally - anywhere from a couple of seconds to a couple of minutes. It varies from day to day."
If NASA really was attempting to cover up evidence of otherworldly visitors in Earth's orbit then why show anything at all on the stream ? Why even provide a live feed in the first place ?
If would be fair to say that this particular conspiracy theory has been satisfactorily debunked.
Source: Popular Mechanics | Comments (48)
Similar stories based on this topic:
Tags: NASA, UFO