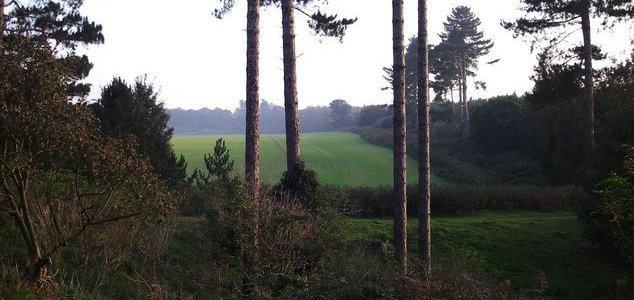 Another witness has come forward to speak about the incident.

Image Credit: CC BY-SA 2.0 Simon Leatherdale
A former security police officer has described the object he witnessed that night as 'not of this world'.
It's the UK's best known UFO case and even now, more than 36 years later, investigations are still being carried out in the hope of determining exactly what happened.
The strangeness began on December 26th when US servicemen stationed at RAF Woodbridge witnessed an unknown object descending in to the woods. Upon investigating they encountered a glowing metallic object which seemed to move through the trees as they approached. When they returned the next day they found three triangular impressions in the ground at the same spot.
On December 28th the object appeared a second time, prompting deputy base commander Lt Col Charles Halt and a group of servicemen to venture out in to the woods to investigate.
While the testimony of Halt himself has been well documented over the years, one of the other men who had been with him that night has only now come forward to tell his side of the story.
Steve Longero, a former United States Air Force (USAF) security police officer, has spoken out in a recent interview with MUFON about what he witnessed.
"Yes. I was in the forest, I saw the lights, heard the conversations, talked about it and was told to be quiet!" he said. "It was hard to take in. Well, from what I remember, the lights, fluorescent lights, kind of a glow, like a reddish glow."
While in the forest, he remembered noticing how quiet everything was despite the commotion and described how the lights seemed to "watch" the men as they ventured closer.
He also spoke about how he had been told to 'stop talking about' the incident afterwards.
"Personnel were then called in individually and told not to talk about the incident, and were told that their silence was important due to the nuclear weapons reportedly housed at the base, and were then asked to sign a non-disclosure agreement," he said.
Longero also played down the suggestion that the light had been that of a nearby lighthouse.
"Not unless the lighthouse could move," he said, jokingly.
"I think it was something not from this world. Just because the way it hovered and just the way it disappeared. That's what I think. That's what I've always thought."
Source: Inquisitr.com | Comments (26)
Similar stories based on this topic:
Tags: Rendlesham, UFO