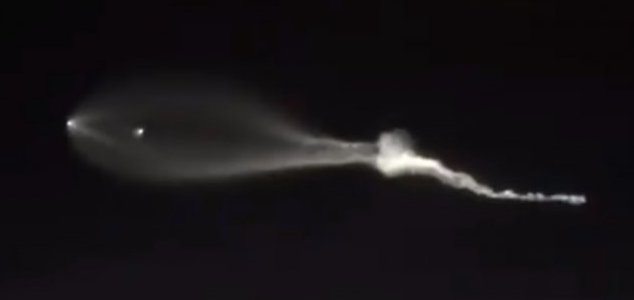 The spectacle was visible from miles around.

Image Credit: Twitter / Elon Musk
Los Angeles residents took to social media in their droves following a recent Falcon 9 launch.
The rocket, which appeared above southern California as a huge glowing jellyfish with a bright trail streaking behind it, ended up sparking a flurry of UFO reports from concerned locals.
Among those who commented on the phenomenon was 'The Office' actress Jenna Fischer who wrote:
"LA...what the heck is this weird jellyfish thing going across the sky right now ?"
Singer-songwriter Courtney Love, meanwhile, had cottoned on to the true nature of the spectacle and Tweeted
"@elonmusk is taking us into the future. Watch out universe, here come the weirdest aliens you've ever seen."
Even Musk himself poked fun at the situation by writing
"It was definitely aliens."
The SpaceX Falcon 9 responsible for the sightings, which had launched from Vandenberg Air Force Base that afternoon, was carrying a payload of ten Iridium-4 satellites in to orbit.
Source: IB Times | Comments (10)
Similar stories based on this topic:
Tags: UFO, SpaceX