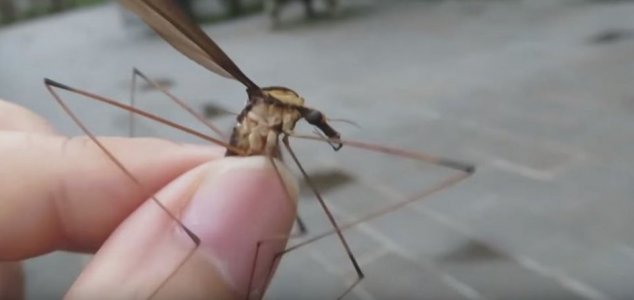 The insect is genuinely huge, but is it actually a mosquito ?

Image Credit: YouTube / New China TV
A Chinese entomologist found the insect, which has a wingspan of 11.5cm, during a field trip last year.
The enormous specimen reportedly belongs to the species
Holorusia mikado
and was found during a field trip to Mount Qingcheng in Chengdu, the captial of China's Sichuan province.
These huge insects typically grow to around 8cm, making this one particularly gigantic.
"These mosquitoes look horrendous, but do not feed on blood," said Zhao Li, curator of the Insect Museum of West China. "The adults have a lifespan of only a few days and mainly feed on nectar."
"There are tens of thousands of types of mosquitoes in the world. Barely 100 species feed on blood and may be a problem for humans."
"They are weak fliers because of their big bodies. When they fly, it is more like hopping. More often than not, they are found in areas with dense vegetation."
But is the insect actually a mosquito ? According to reports, there may be some confusion over whether this is a mosquito or a crane fly due to the way these species are categorized in China.
Either way, there's no denying that this particular specimen is truly gigantic.
Source: Straits Times | Comments (23)
Tags: Mosquito