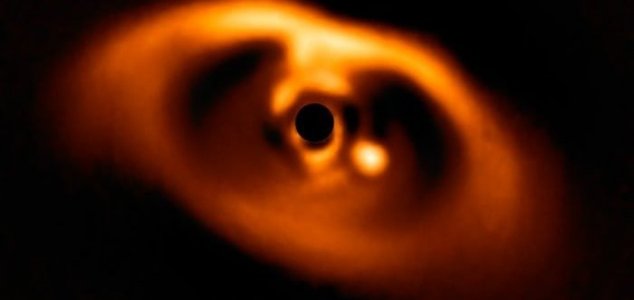 The planet is the glowing orange shape to the right of the black circle.

Image Credit: ESO/A Muller et al
Astronomers at the European Southern Observatory have photographed a planet forming around a star.
The remarkable image, which was taken by the ESO's Very Large Telescope, shows a planet larger than Jupiter forming around the star PDS70 at a distance of 370 light years from the Earth.
The black circle in the center is a filter used to block some of the light from the star.
The newborn world appears to have a cloudy atmosphere and has a surface temperature of 1000C.
"These discs around young stars are the birthplaces of planets, but so far only a handful of observations have detected hints of baby planets in them," said study author Miriam Keppler.
"The problem is that until now, most of these planet candidates could just have been features in the disc. The advantage of our detection is that we have detected [the new planet] with several different observing instruments, different filter bands and different years."
It is believed that additional planets could show up around the star over time.
"This is a relatively young star that shows all of the indications that there should be a planet there, and there is one," said astrophysicist Dr Zoe Leinhardt.
"For astronomers, most of the time, it is very rare that we are really able to show a picture."
Source: The Guardian | Comments (5)
Tags: Planet, Star