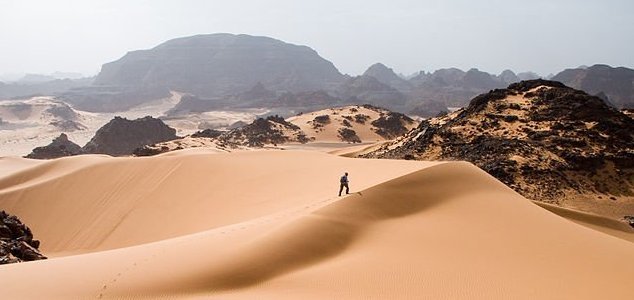 The Sahara is the ideal place for renewable energy.

Image Credit: CC BY-SA 2.5 Luca Galuzzi (galuzzi.it)
In addition to generating huge amounts of energy, wind and solar power could turn the Sahara desert green.
A recent study has highlighted the benefits - as well as the transformative potential - of setting up large-scale solar power and wind farms across 9 million square kilometers of desert.
Not only could this produce four times the world's energy requirements in any given year, but it could also increase rainfall and promote vegetation growth across the entire Sahara region.
"Our model results show that large-scale solar and wind farms in the Sahara would more than double the precipitation, especially in the Sahel, where the magnitude of rainfall increase is between 20mm and 500mm per year," said study lead author Dr Yan Li from the University of Illinois.
"As a result, vegetation cover fraction increases by about 20%."
Wind turbines and solar panels achieve these effects through different mechanisms.
"Wind farms increase surface roughness and therefore increase wind converging into low-pressure areas," said Dr Li. "The converging air has to rise, making it cool off and moisture condense, which will lead to increased rainfall."
"[Solar] panels directly reduce the surface albedo which leads to more solar energy absorption and surface warming, which in turn strengthens the Saharan heat low, leading to more rising air and precipitation."
Whether such an ambitious and large-scale installation will ever go ahead however remains unclear.
"The main message for people, policymakers, and investors is the enormous benefits to the people, society, and ecosystem as a result of these solar and wind farms," said Dr Li.
Source: BBC News | Comments (31)
Tags: Sahara, Wind, Power, Solar