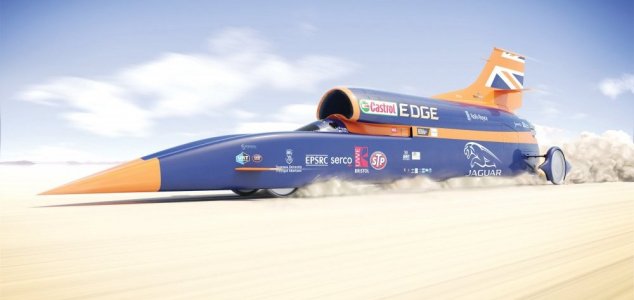 The Bloodhound SSC is the world's fastest car.

Image Credit: YouTube / Bloodhound SSC
An attempt to build the first car capable of exceeding 1,000mph has hit a major financial roadblock.
Developed through a collaboration between 280 companies worldwide, the UK's Bloodhound SSC has been meticulously designed with the goal of breaking the land speed record in spectacular fashion.
To achieve this, the vehicle will first use its Rolls-Royce jet turbine engine to take it up to speeds of around 300mph before activating its powerful rocket engine to propel it the rest of the way.
The vehicle's third engine, a supercharged V8 Jaguar F-Type, will be supplying the rocket with hydrogen peroxide fuel at it goes along.
Together the three engines will produce 133,151bhp - the equivalent to 180 Formula One cars, while propelling the car at a speed that will cover a mile in just 3.6 seconds.
Now though, despite great progress on the design and construction of the Bloodhound SSC, the team has hit a major roadblock in the form of financial difficulties that could cripple the entire project.
Much of the money so far has come from sponsorship deals, partnerships and donations, however developing and building something of this scale and complexity does not come cheap.
As such, the firm behind the project, Bloodhound Programme Ltd, has now gone in to administration.
"We have a legal entity that has gone into administration because it hasn't got any more cash," said Andrew Sheridan of FRP Advisory LLP. "But there is a project there that is very much alive and on the cusp of delivering its goal, which is ground-breaking with leading technology."
"However, it does need circa [$32.8M] to get it over the line, and that now requires an investor, be that a wealthy individual or a corporate of some kind."
Source: BBC News | Comments (16)
Tags: Bloodhound