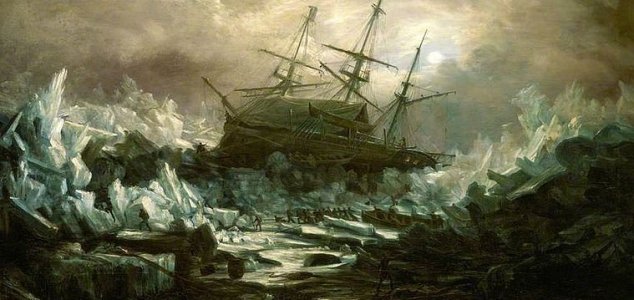 The HMS Terror (pictured) and HMS Erebus perished in the ice.

Image Credit: William Smyth R.N.
Six unexpected deaths at the remote Arctic settlement of Gjoa Haven have been attributed to a reawakened curse.
The claims center around Sir John Franklin's doomed 1845 expedition to the Northwest Arctic Passage which saw both the HMS Terror and HMS Erebus become hopelessly stuck in thick ice.
Both crews suffered horribly and ultimately perished while attempting to reach safety.
The wrecks, which had remained lost for over 170 years, were finally located in 2014 and 2016 off the coast of King William Island in the Canadian Arctic Archipelago.
Now though, a spate of deaths among the nearby 1,000-strong Inuit community at Gjoa Haven has lead to the belief that by disturbing the wrecks, researchers have awakened an age-old curse.
"People are superstitious," said Jacob Keanik, a local man who lost two close family members in a boating accident since the shipwrecks were discovered.
"They feel there is a connection between the deaths and disturbing the wreck sites."
"My late mother told me, even before these shipwrecks were discovered... the whole King William Island has non-human people that we cannot see."
"It's a funny feeling when we get on the other side of the island. You sense that somebody's around you, but there's nobody around you."
Fred Pedersen of the Kitikmeot Inuit Association however has been quick to allay any fears.
"It is only artifacts that are being found and being taken off wreck sites," he said. "There are plans in place that if any bodies are found, they will be left in place."
"We will not bring up or disturb human remains."
Source: Telegraph | Comments (0)
Tags: HMS Terror, Franklin