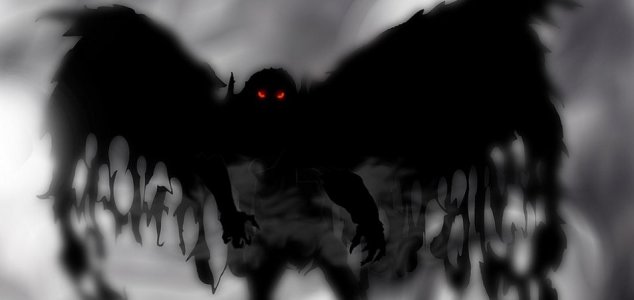 What could explain the Mothman phenomenon ?

Image Credit: PD - Steve Baxter
'Terror in the Skies' will explore stories of strange winged creatures in the US including the legendary Mothman.
Over the years there have been countless reports from across the United States of gargoyles, giant bats, pterodactyls, thunderbirds, flying humanoids and other mysterious winged creatures which continue to defy explanation.
Perhaps the best known of these is 'Mothman' - a winged humanoid that gained prominence after it was sighted multiple times in the Point Pleasant area over a two year period from 1966 to 1967.
Described as a human-like entity with wings and glowing red eyes, the creature was encountered by several witnesses and became associated with the collapse of the Silver Bridge in 1967.
Since then, other people have also reported sightings of a similar creature. In 2017, a total of 55 sightings of mysterious winged creatures were reported in the Chicago area alone.
"I saw a plane flying, but also something moving really awkwardly under it," said one security guard. "It didn't look like a bat so much as what illustrations of pterodactyls look like, with the slenderness of its head and its wing shape. I know what birds and what bats look like."
"This thing didn't have any feathers or fur, and it didn't fly like anything I've ever seen."
Now a new documentary is aiming to investigate these and other similar sightings from across the United States in the hope of better understanding the nature and origins of such stories.
Named
Terror in the Skies
, it is directed by Seth Breedlove and produced by
Small Town Monsters
.
A trailer for the documentary can be viewed below.
Source: Meaww.com | Comments (14)
Tags: Mothman, Thunderbird