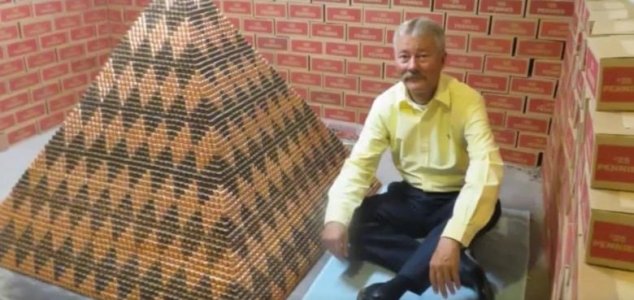 The pennies that make up the pyramid are worth $10,000.

Image Credit: YouTube / Penny Building Fool
Cory Nielsen spent three years putting together the impressive structure using 1,030,315 pennies.
The 55-year-old, who is from Phoenix, Arizona, is now awaiting confirmation from Guinness World Records that his remarkable creation beats the previous world record of 1 million pennies.
The pyramid weighs 6,360 pounds, measures 44.6 inches tall and is comprised of 93,665 smaller stacks of 11 pennies with the base being 65 stacks long by 65 stacks wide.
"The way I built it, I take 11 pennies; I made a little stack, and I just place them on the ground; there is no glue, no adhesives or anything like that, and you just kind of free stack them on top of each other, and I go up consistently," he said.
Nielson was inspired to go for the record after building a smaller pyramid of 47,000 coins on his desk.
"I thought that was pretty big, and I saw people work, and they ask me if that's a world record," he said. "I'm like, I don't know, but if it isn't, I will make it one."
Source: UPI.com | Comments (11)
Tags: Pennies, Pyramid