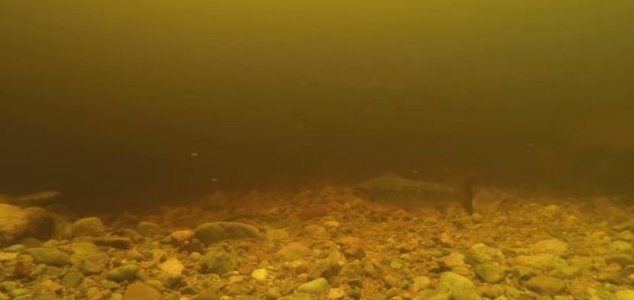 A still from the footage (can be viewed below).

Image Credit: Facebook / Ness District Salmon Fishery Board
Footage showing a large serpentine animal swimming away from Loch Ness has recently emerged online.
The theory that some sightings of Scotland's famous Loch Ness Monster can be attributed to large eels in the water has received something of a boost this week thanks to a new video which seems to show a rather large eel-like creature passing through the murky waters of the River Ness.
Loch Ness is connected to the ocean via two waterways - the River Ness and the Caledonian Canal, meaning that there is a way for creatures from the sea to make their way into the loch.
In the video, a salmon can be seen swimming around in the foreground while the eel (or whatever it is) can be seen passing from left to right in the background, barely visible against the gloom.
The eel is believed to be moving from Loch Ness towards the sea, judging by the flow of the water.
It's difficult to determine exactly how large it is, but from the video it appears to be pretty big.
Source: Facebook | Comments (86)
Similar stories based on this topic:
Tags: Loch Ness Monster