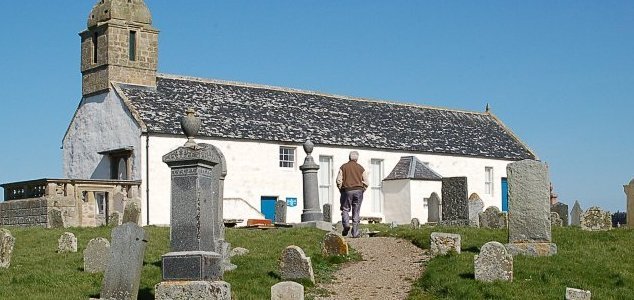 The church under which the skeletons were found.

Image Credit: CC BY-SA 2.0 Jim Bain
Two warrior skeletons unearthed in Scotland had been buried together in a coffin alongside four other skulls.
Thought to date back to the 15th Century, the remains were discovered underneath Tarbat Old Parish Church in Portmahomack, Easter Ross.
The skeletons, which were those of two men in their 40s, appeared to have suffered traumatic injuries with one exhibiting a 'horrific' sword wound that had removed the lower half of his face and the other having been fatally wounded by a combination of sword strikes and blunt force.
It is thought that the two men had been killed during a long and bloody rivalry between Clan Ross and Clan Mackay which culminated in the Battle of Tarbat in the 1480s.
The inclusion of four other skulls in the grave however has left researchers scratching their heads.
Dr Cecily Spall, director of York-based Fieldwork Archaeological Services, has described the discovery as "unlike anything that's been found in Scotland or anywhere else in Britain."
"The burials will be radiocarbon dated to see when they died and carbon isotopes will be used to see where they were born," she said. "We're also going to get them analyzed to see if any ancient DNA exists to see whether they were related and we've had one of the faces reconstructed."
"At this time, burials were incredibly orthodox, so this deviates massively from what you would expect to find."
Source: STV.tv | Comments (10)
Similar stories based on this topic:
Tags: Skeletons, Scotland