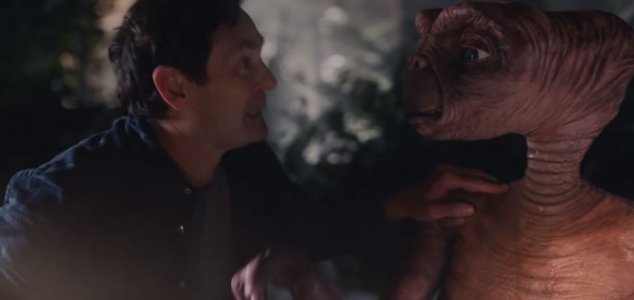 It's a reunion that fans of the original movie have waited decades for.

Image Credit: YouTube / Sky
A heartwarming new Christmas ad has reunited Steven Spielberg's friendly alien with the now grown-up Elliot.
Released all the way back in 1982, 'E.T. the Extra-Terrestrial' remains one of the most cherished movies of all time - a heartwarming tale of a young boy's encounter with a friendly alien creature.
Directed by Steven Spielberg and starring Henry Thomas as Elliot (as well as a young Drew Barrymore as his sister), the movie was the highest grossing film of all time in the year of its release and is also notable for its incredible music score courtesy of legendary composer John Williams.
Now Elliot, ET and the original film score are finally back after nearly 40 years thanks to a new advert which shows the titular alien returning to Earth to visit Elliot's family at Christmas.
Created to promote Comcast's Xfinity service in the US and Sky's satellite service in Europe, the ad was put together with the blessing of Steven Spielberg who was consulted throughout its creation.
So far ET's return seems to have gone down very well with audiences with some viewers describing it as the "best Christmas ad ever."
"The audience is going to get everything they want out of a sequel without the messy bits that could destroy the beauty of the original and the special place it has in people's minds and hearts," said Thomas.
You can check out Sky's version of the ad below.
Source: Classicfm.com | Comments (9)
Tags: Spielberg, Extraterrestrial