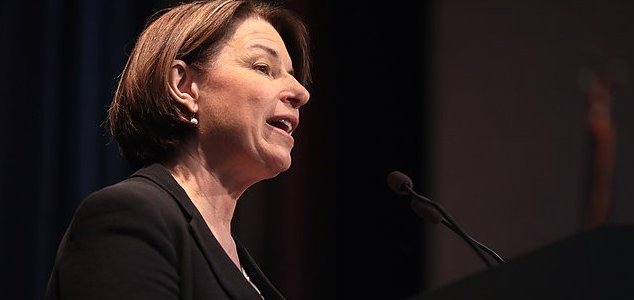 Klobuchar has expressed an interest in the UFO phenomenon.

Image Credit: CC BY-SA 2.0 Gage Skidmore
Democratic Senator Amy Klobuchar has expressed an interest in disclosing information about UFOs.
Klobuchar, who is one of several candidates hoping to make it to the Oval Office this year, had been speaking to journalist Daymond Steer of the Conway Daily Sun newspaper on December 30th when the subject of UFOs and UFO disclosure was brought up.
What's interesting is that the same paper asked Klobuchar back in October if she was familiar with the USS Nimitz UFO incident and at the time she had stated that she would look into it.
When asked again about it this time, she confirmed that she had done so.
"I've read some articles about it," she told Steer. "And, you know, I think we don't know enough. I don't know. I mean, I don't know what happened, not just with that sighting, but with others."
"And, I think one of the things a President could do is to look into what's there; in terms of what does the science say; what does the military say ?"
"Here's the interesting part of that answer, is that some of the stuff is really old, these sightings. So, why can't you see if you can let some of that out for the public ? So, earnest journalists like you, who are trying to get to the bottom of the truth would be able to see it ?"
During the interview, it was also mentioned that during the last presidential campaign, Hillary Clinton had also promised to "get to the bottom of" the UFO phenomenon.
"She didn't tell you what came out of it," said Klobuchar. "But what a President could do is to be able to figure out, can we release some of the information now, publicly ?"
Talk of UFO disclosure seems to have been rampant lately, with even Bernie Sanders declaring that he would
release information about alien visitation
if he happened to become president.
Whether those making such promises will actually deliver on them if they ever do make it to the Oval Office however remains to be seen.
Source: Hotair.com | Comments (6)
Similar stories based on this topic:
Tags: UFO, Klobuchar