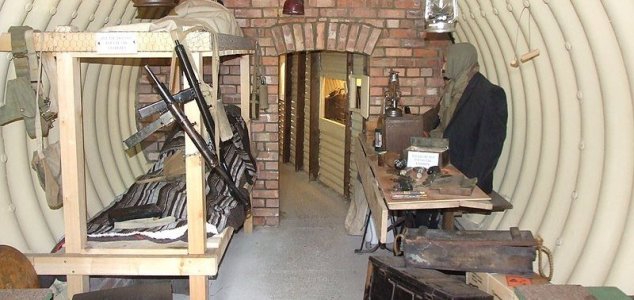 A reconstruction of an Auxiliary Units bunker.

Image Credit: CC BY-SA 4.0 Gaius Cornelius
Forestry workers in Scotland had been felling trees when they came across a heavy iron door in the ground.
The intriguing discovery turned out to be an old World War 2 bunker - one of several constructed to provide shelter for a little-known military force known as the Auxiliary Units.
This secretive group of trained volunteers (sometimes referred to as "Churchill's secret army"), was charged with the task of defending the British Isles in the event of a German invasion.
Unlike the Home Guard who were trained to engage in conventional warfare, the Auxiliary Units were intended to act as a secretive guerrilla force that would engage in various unconventional (and even suicidal) tactics to do as much damage to the invading Nazis as possible.
To this end, discrete concrete bunkers were set up all over the country to act as safe houses. The location of these bunkers was kept so secret that it is still unclear exactly where they all are.
The newly discovered bunker is around 23ft long and 10ft wide - large enough for seven soldiers.
Inside, archaeologists found wooden scraps from a bed and a tin used to store food.
"From records, we know that around seven men used this bunker and at the time were armed with revolvers, submachine guns, a sniper's rifle and explosives," said archaeologist Matt Ritchie.
Source: Live Science | Comments (3)
Tags: Bunker