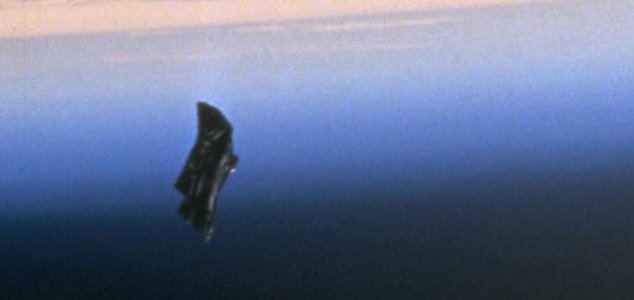 Some believe that this 1998 NASA image of space junk shows 'The Black Knight'.

Image Credit: NASA
Zayell Gillespie and two friends encountered something very strange over Nottinghamshire, England in 2016.
The group had been enjoying a walk on the evening of February 9th of that year when they became aware of a large, dark object hovering in the sky above them.
"We walked up to the top of the hill (at the Bulwell Forest Golf Club)," Gillespie told
Derbyshire Live
. "As we were staring at the sky, there were these two stars that moved towards us."
"They grew. I thought they couldn't possibly be stars."
"They both came into focus - up close to us in the air. I thought maybe it was a helicopter - but there was no sound. As you focused on it, you could see there was a black shape around it which was slightly differently colored to the night sky."
Gillespie likened the object to 'The Black Knight' - a fabled 'extraterrestrial probe' that has been described and written about many times over the years.
As the trio stood and watched, the object seemed to scan them.
"It felt like an intense analysis of me," said Gillespie.
"I think emotionally, it was trying to pick up what I was feeling."
After the object disappeared, the friends carried on with their evening, however what they witnessed that night would remain in their thoughts for a long time.
Even now - four years on - they are no closer to explaining what the object was or where it came from.
Source: Derby Telegraph | Comments (5)
Similar stories based on this topic:
Tags: UFO, Black Knight