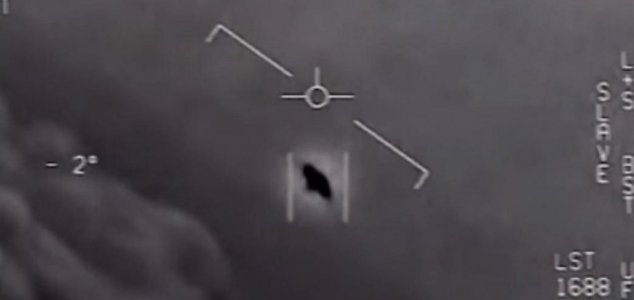 A still from one of the three pilot recordings.

Image Credit: US Navy
The US government has officially released three video clips of unidentified objects recorded by US Navy pilots.
The clips, which have been circulating for years, were filmed by pilots pursuing UAPs (or Unidentified Aerial Phenomena) - objects that many have speculated could be extraterrestrial in origin.
These include footage recorded by pilots from the Nimitz Carrier Strike Group who encountered a fast-moving unidentified flying object 100 miles off San Diego during a training exercise back in 2004.
The clips were previously leaked and published by the New York Times and Tom DeLonge's
To The Stars Academy of Arts and Science
.
An official statement regarding the release of the three clips reads:
"The Department of Defense has authorized the release of three unclassified Navy videos, one taken in November 2004 and the other two in January 2015, which have been circulating in the public domain after unauthorized releases in 2007 and 2017.""The U.S. Navy previously acknowledged that these videos circulating in the public domain were indeed Navy videos. After a thorough review, the department has determined that the authorized release of these unclassified videos does not reveal any sensitive capabilities or systems, and does not impinge on any subsequent investigations of military air space incursions by unidentified aerial phenomena."

"DOD is releasing the videos in order to clear up any misconceptions by the public on whether or not the footage that has been circulating was real, or whether or not there is more to the videos. The aerial phenomena observed in the videos remain characterized as 'unidentified.'"
The officially hosted clips can be viewed and downloaded -
here
.
Given that the Department of Defense has not only formally acknowledged the clips but admitted that they are genuinely 'unidentified', it will be interesting to see what happens next.
It seems that, at the very least, there is a clear argument in favor of a renewed investigation into the phenomenon.
Source: defense.gov | Comments (429)
Similar stories based on this topic:
Tags: UFO, Pentagon