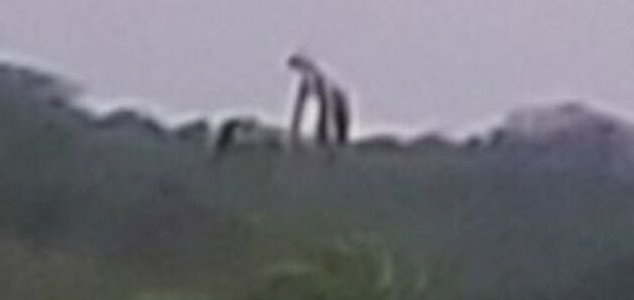 Is this a genuine giant, or something else ?

Image Credit: El Sol de San Luis
Residents of Mexico's San Luis Potosi region reportedly claim to have witnessed a very large humanoid creature.
From Jack and the Beanstalk to Jason and the Argonauts, tales of giants have been an integral part of fairy tales, folklore and mythology for thousands of years in countries all across the world.
But could there really exist (or ever have existed) enormous humanoids of such extreme scale ?
Some residents in the Huasteca region of San Luis Potosi, Mexico certainly seem to think so, as evidenced by a series of claims, reports and even photographs pertaining to the sighting of a very large creature that was allegedly spotted last week near the municipality of Ciudad Valles.
"I was with my husband playing with my child when we heard a noise, like an explosion, so we looked at the hill, where we thought the noise was coming from, we thought it was a landslide," said one witness, Mrs. Antonia, who described seeing a "large, thin man."
"It was about five thirty in the afternoon; I was really scared. My husband started making fun of me but when he saw that 'thing' he got very scared and told me to go into the house."
Similar reports have also emerged from other nearby towns as well.
A photograph of the alleged 'giant' can be viewed above, however it is quite difficult to make out whether it is something genuinely large or something that is small and out of focus.
Could this be evidence that giants roam the wilds of Mexico or is the whole thing a hoax ?
You decide.
Source: Coasttocoastam.com | Comments (57)
Similar stories based on this topic:
Tags: Giant, Mexico