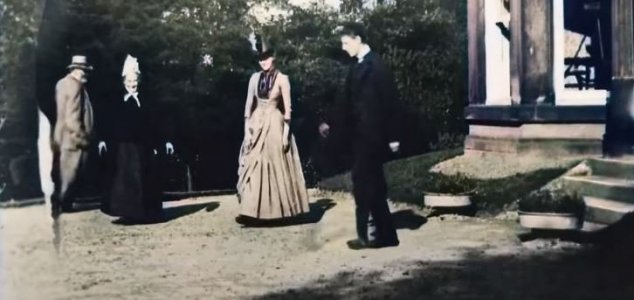 The footage has been remastered in remarkable detail.

Image Credit: YouTube / Denis Shiryaev
A historic piece of video footage recorded 132 years ago has been enhanced using artificial intelligence.
Shot on October 14th, 1888, the historic 'Roundhay Garden scene' - the oldest video footage known to exist - shows two men and two women at the Oakwood Grange in Leeds, England.
Their names were Harriet Hartley, Adolphe Le Prince, Joseph Whitley and Sarah Whitley. Le Prince happened to be the son of French inventor Louis Le Prince who was behind the camera.
The original clip is blurry, monochrome, lasts a mere 1.66 seconds and contains only 20 frames.
Now though, thanks to some serious computer wizardry, YouTuber Dennis Shiryaev, who is well known for remastering old footage, has converted the video into 4K.
The resulting clip offers the clearest ever look back to a time that far predates anyone alive today.
You can check out some of Shiryaev's other remastered videos -
here
.
Source: Science Times | Comments (6)
Similar stories based on this topic:
Tags: Video