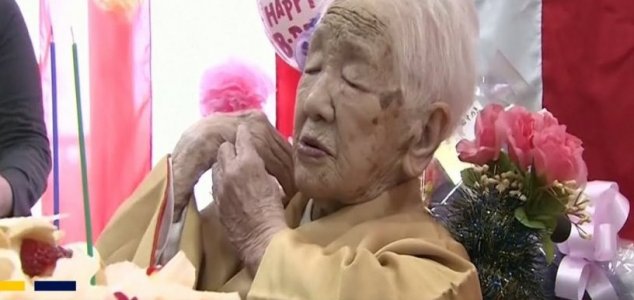 Tanaka was born in the year 1903.

Image Credit: YouTube / South China Morning Post
Kane Tanaka - the oldest person in Japan - has reached a grand old age despite a penchant for fizzy drinks.
Officially recognized by the Guinness Book of Records as not only the oldest person alive today but also the third-oldest person to have ever lived, Tanaka found herself the subject of much praise and appreciation this week thanks to a public holiday in Japan that is devoted to its senior citizens.
At 117 years and 261 days old, she overtook previous record holder Nabi Tajima who died in 2018.
To celebrate her achievement, Tanaka cracked open a bottle of cola - her favorite fizzy drink.
Her grandson Eiji Tanaka, who is himself 60 years old, told reporters that his grandmother was in good health and "enjoying her life every day" despite the coronavirus restrictions on family visits.
"As a family, we are happy and proud of the new record," he said.
Tanaka represents the growing trend in Japan for people to live much longer with over 80,000 people in the country now believed to be over 100 and 36.17 million who are over 65.
By comparison, back in 1963 there were only 153 people aged over 100.
The only two people in history to have ever exceeded Tanaka's extreme age were American Sarah Knauss, who died in 1999 at the age of 119, and Jeanne Calment of France who - having lived to the incredible age of 122 before her death in 1997 - was the oldest person in recorded history.
Source: The Guardian | Comments (4)
Tags: Old Age