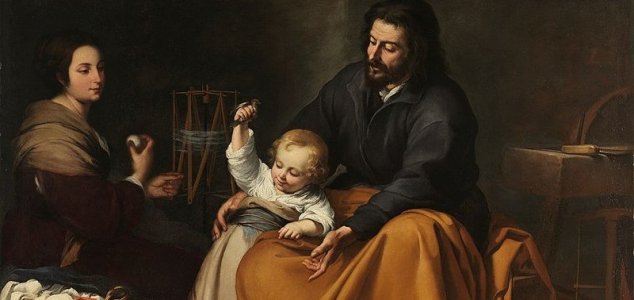 A depiction of Jesus, Mary and Joseph at their home.

Image Credit: Bartolome Esteban Murillo
Prof Ken Dark believes that he has identified the home where Jesus once lived beneath a convent in Nazareth.
Prof Dark, who teaches archaeology and history at the UK's Reading University, has spent 14 years investigating the private dwelling which is situated beneath the Sisters of Nazareth Convent.
He believes that in all likelihood, it was indeed the childhood home of Jesus himself - the abode in which Mary and Joseph lived and where the young Jesus spent his early years.
The home itself, which was first discovered in the 1880s, is certainly nothing remarkable and would have served as the home of a typical Galilean family 2,000 years ago.
"There was nothing unusual about it," Dark told
CBS News
. "It's not pitifully poor, but there's no sign of any great wealth either. It's very ordinary. If this is the childhood environment of Jesus, there's no reason to believe he grew up in anything other than a very typical Galilean rural home of its time."
One clue to its connection with Jesus (and especially Joseph) was its construction. While Joseph is typically described as a carpenter, the Bible suggests that he was adept at a range of crafting skills.
"Whoever built the house had a very good understanding of stone-working," said Dark. "That would be consistent with the sort of knowledge we would expect of someone who might be called a tekton."
"By itself, that's not got flashing lights saying, 'this is where Jesus lived.' But it's underneath a fifth to seventh century Byzantine church."
The site is also not far from the Church of the Annunciation - the place where it is believed Mary was told by an angel that she would become the mother of Jesus.
As things stand however, whether or not this was once the home of Jesus remains open to debate.
"On the one hand, we can put forward a totally plausible case that this was Jesus' childhood home," said Dark. "But on the other hand, actually proving that is beyond the scope of the evidence.
"It's debatable whether it would ever be possible to prove that."
Source: CBS News | Comments (18)
Similar stories based on this topic:
Tags: Jesus