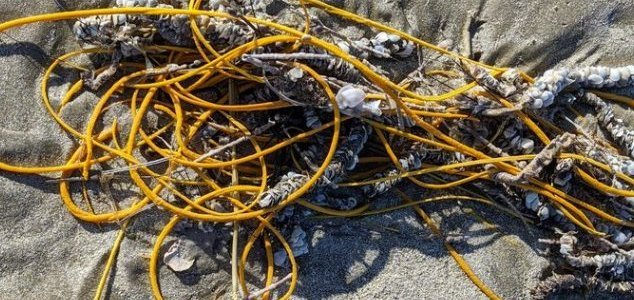 This is not a piece of rope...

Image Credit: R. Claussen / National Park Service
If you've ever come across a coil of colorful 'rope' along the shoreline, it might not be quite what it seems.
You can often find some unusual things washed up on the world's beaches, but this particular example - which looks like a coil of yellow rope - is perhaps the strangest yet.
In a recent post on Facebook, National Park Service guide Rebekah Claussen highlighted the fact that this 'rope' isn't rope at all, but a type of coral that can be found in the Gulf of Mexico.
"We often get asked what this is, and more often people assume that it's trash," she wrote.
"Although it may fool you into thinking that it is some sort of wire, this is actually a type of coral known as sea whip. Sea whip is a soft coral that can be found from New Jersey all the way down to the Gulf of Mexico. It comes in a variety of colors like red, white, purple and yellow."
"If you look closely at a piece of washed up sea whip, you might notice the black on the inside of this coral. This is the skeleton of the coral, while the colored pieces are the tiny colonies of polyps that make up the living part of the coral."
"So the next time you're out for a stroll on the beach, look for the sea whip and remember, it's not trash!"
Source: Live Science | Comments (0)
Similar stories based on this topic:
Tags: Coral