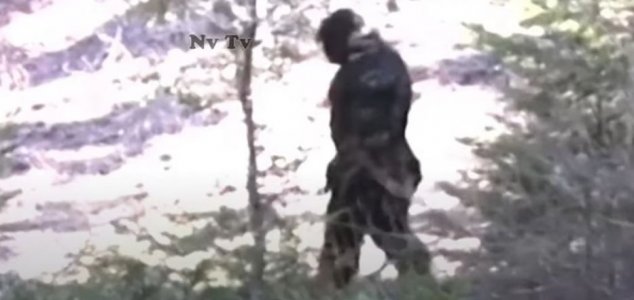 Who or what is this ?

Image Credit: YouTube / Nv Tv
Footage has emerged online showing a large, bipedal ape-like creature... or is it a man in a suit?
We've seen a fair number of videos over the years purporting to show evidence of Bigfoot - a large, ape-like hominid creature that is arguably the world's most ubiquitous cryptid.
Ever since the infamous Patterson/Gimlin footage, however, it has been difficult to know whether a lot of these recordings are of a genuine animal or of someone mucking about in a costume.
This latest example comes courtesy of YouTube channel 'Nv Tv' which presents the clip - which lasts only a few seconds - as an "incredible muscular giant-sized sasquatch" filmed in Idaho.
Very little is actually known about the video or where it came from and there doesn't seem to be an explanation for why the person who recorded it stopped filming after such a short period of time.
The video caption notes that the level of detail present in the 'suit' makes it unlikely to be a hoax, however without additional background information it's impossible to say what's going on.
You can check out the video for yourself below.
Source: YouTube | Comments (60)
Similar stories based on this topic:
Tags: Bigfoot