By:

ZadGod

| Location:

St. Catharines Ontario.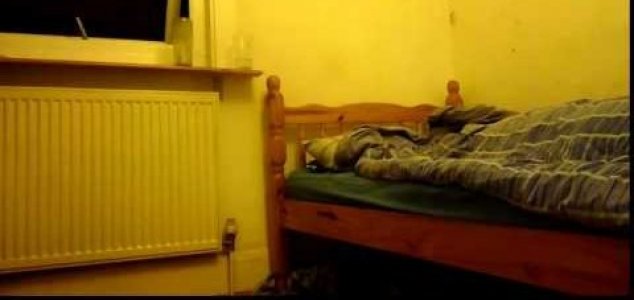 Image Credit: YouTube / Mike Pike
When I was 14/15 years old my family and I lived in a town house that I believe was haunted, I experienced quite a few paranormal activities but this one kind of stood out, a dream.
My room was located right above the front entrance to our house, my window faced the street and I had clear visibility of our driveway, front lawn and the entire street. Everything was normal until 3:04AM as it read on my alarm clock. I would be having a normal dream, nothing new until the time hit 3:04, that's when I would hear a voice in my sleep.
It was a male voice that would call out my name and then begin encouraging me to do things, actions, gestures and other things of that nature. These dreams went on for weeks. Then every single night for two weeks straight the same voice at the same exact time 3:04AM not a minute earlier or later would say out my name then proceed to tell me to 'come open the door' my bedroom window was kept closed because it was the middle of winter in Canada but I heard this voice loud and clear, kind of like a shout.
For two weeks I would wake up and get out of my bed and walk towards my room door until I would come to realization that it was 'just a dream'. After the first night it happened I asked my family if anyone was outside calling my name and asking me to open the door for them, and they all laughed so I thought nothing of it. So this went on for Two weeks, the same voice with the same command at the same exact time 'come open the door'. Every night I would walk to my bedroom door, realize it was 'a dream' and go back to my bed, I would even check outside my window and there would be nobody there. One night I even made my way past my bedroom door and down the stairs that lead directly to the front door, I never brought myself to open the door out of fear.
Two weeks go by and I finally decided that I no longer wanted to sleep in that room because I felt something wasn't right, at this point I had convinced my parents to swap my room with my brother not having told them anything about my weird dreams. They finally agreed and it all stopped, no voices, no weird dreams no nothing.
Two years go by now I'm around 16/17 my brother moved out so I took my old room and that's when I started having weird dreams, not only voices. Some of the dreams were of something that would not allow itself to be seen and it would chase me until I would wake up. Some nights I'd wake up with scratches on my face and other nights I'd wake up unable to breath feeling as if someone was standing on my chest pushing me into my bed,. These voices since then have stopped along with the nightmares and I'm now 22.
I asked my brother who slept in my old room if he encountered any weird dreams and he began to explain similar dreams and thoughts of someone telling him to do things for them... that old house was one that nearly everyone in my family had some sort of paranormal experience. I've never been able to find an explanation as to what the voice was and why for two weeks straight at the same exact time would tell me to 'come open the door' for them.
Any thoughts or similar experiences is welcomed thanks.
Comments (4)