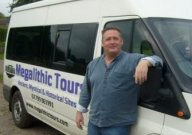 Mystic isle of megaliths
Posted on Wednesday, 22 September, 2010 |

2 comments
Columnist:

Geoff Ward
In his new book, Anglesey: A Megalithic Journey, historian Neil McDonald evokes the magic and mystery of the Welsh isle. It's much more than an ordinary guidebook. It's McDonald's vision of a sacred landscape. Today, we are familiar with the idea of sacred landscape, as exemplified first and foremost by the world heritage status given to Stonehenge and Aveburv in Wiltshire, and by the megalithic wonderland of the south-west of Ireland, and McDonald is fully aware of its application to the 'mystical' isle of Anglesey, as he dubs it from the outset.
He calls up the ancient allure of the island in an illustrated volume unique in both concept and editorial approach. It certainly makes one want to visit Anglesey to probe its Stone Age secrets on one's own mytho-geographical odyssey - the kind of outcome which is surely the mark of success for any such publication.
Evidence of human habitation on the island goes back to 7,000BC although, as Neil points out, continuous occupation may have begun much earlier. With its high concentration of megalithic sites, Anglesey is bound to be one of those places where the ancient stonescape can elevate one's atavistic energies in a significant way, where one can enter into the collective memory of our ancestors, still rendered in these venerable stones.
Passionate about his subject, and extremely well-informed about it too, Neil has shepherded many groups of enthusiastic visitors around Anglesey in recent years under his Megalithic Tours enterprise, so he knows the territory to advantage, being a reliable guide to the hidden as well as the accessible.
There are personable and informative descriptions and discussions of the Bryn Celli Ddu and Presaddfed chambered tombs - the former being the most important Welsh prehistoric site - the Bodowyr cromlech, the Mein Hirion standing stones, and a range of other burial chambers and imposing megaliths, including the hard-to-find, such as the Bryn yr Hen Bobl burial chamber.
Neil generally resists the urge to romanticise, placing the monuments in a proper historical perspective, blending the mystical with the material, but recognizing their importance as the locations of religious ritual and ceremony, and bringing in the local myths and legends associated with them. And he always mentions the view!
However, he does not restrict himself to the Stone Age, as there are also chapters on Penmon Priory and St Seiriol's Hermitage and sacred well, the Parys Mountain copper mine, and Holyhead's St Cybi's Church and Caer Gybi Roman fort.
All this makes for a very rounded account of Anglesey's deep history and distinctive culture which doesn't fail to register the isle's special atmosphere and allure.
The Roman historian Cornelius Tacitus recorded that when his fellow countryman and governor of Britain Suetonius Paulinus took his army to Anglesey, then known as Mona, in the early 60s AD, an 'enemy host' confronted him across the Menai Strait with druids 'raising their hands to the sky and shouting dreadful curses', terrifying the soldiers. Among the armed men across the water, 'dashed women in black attire like Furies, with hair disheveled, waving flaming torches'.
This dramatic snapshot of druidic dervishes may well be an invention by the unreliable historian, but today's 'invaders' - whether megalithic maverick or mundane tourist - are not confronted with any such antics on the part of the islanders, although much that is wild and mysterious still lies within its shores.
* Anglesey: A Megalithic Journey by Neil McDonald, published by Mutus Liber (www.mutusliber.com) at £10. ISBN 9780955523069.
Article Copyright© Geoff Ward - reproduced with permission.