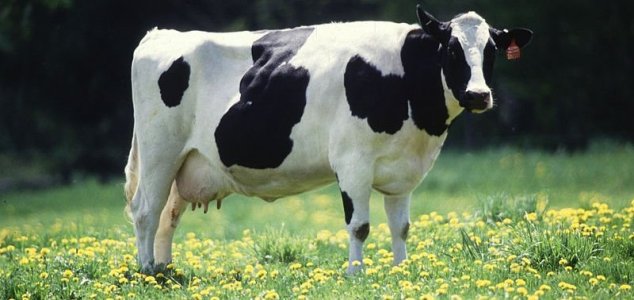 The cows had escaped from a nearby field.

Image Credit: Keith Weller/USDA
Sue Marshall had been hoovering when an almighty crash in her workshop alerted her to an unusual visitor.
When Sue went to investigate the noise she had expected to find that a tree had fallen down but instead came face to face with a large cow that appeared to have fallen through the roof of her house.
No sooner had she coaxed the terrified animal back outside when she heard another tremendous crash from the workshop and discovered that a second cow had fallen through the ceiling at a different spot. It turned out that the startled bovines had escaped from a nearby field and had somehow managed to clamber on to the roof.
"The two cows were clearly distressed, the first careered out of the yard into an adjacent field, the second decided to hang around and made a bit of mess of the garden," she said.
The damage to the roof has since been repaired, as has the broken fence that facilitated the cows escape. "It's been quite a stressful experience; the cows clearly thought that there was some good grazing on the other side of the fence," she said. "The boundary has been repaired now so hopefully we won't be getting any more uninvited guests."
Source: Yahoo! News | Comments (23)
Tags: Cows