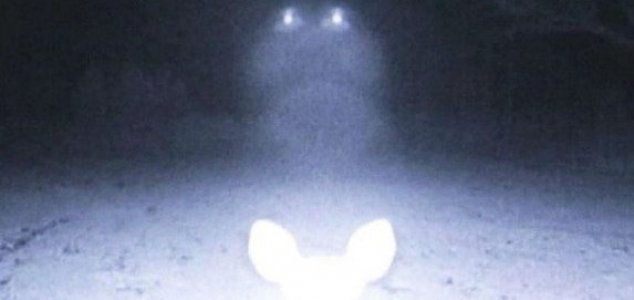 What was producing the strange lights ?

Image Credit: WLOX / Rainer and Edith Shattles
The mysterious pair of lights that appeared in the footage seemed to be floating off the ground.
The phenomenon was recorded by Rainer and Edith Shattles who live in the Cumbest Bluff area of Jackson County. The couple had been trying to catch images of deer on their trail camera but instead discovered something completely unexpected.
On the night of February 16th two bright lights appeared on the footage seemingly out of nowhere. Despite resembling car headlamps the lights were situated too far off the ground to be a vehicle and the location was in the middle of the woods where there are no roads.
"It's a puzzle that may never be solved and it's one that's kind of fun, adds a little flavor to life, I guess you could say," said Rainer. "We are just fascinated over it because of the fact that it was right here and it's real."
Source: WLOX.com | Comments (129)
Tags: UFO