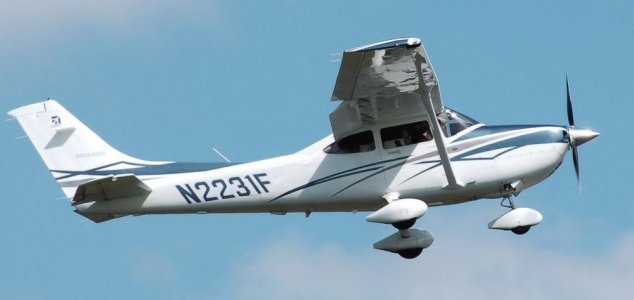 The plane Valentich had been flying at the time was a Cessna 182.

Image Credit: PD
A farmer may hold the key to the disappearance of Victorian pilot Fred Valentich in October 1978.
Valentich had been on a routine flight over Australia's Bass Strait when he reported to air traffic control that he had encountered a strange object in the sky that was "not an aircraft".
A few moments later the transmission cut out and he was never seen or heard from again. An extensive search of the area came up empty and no trace of his plane has ever been found.
Now 36 years later a UFO research group has been investigating the story of a farmer near Adelaide who had reportedly witnessed a 30m wide craft hovering over his property on the same morning as Valentich had disappeared.
The farmer had also allegedly spotted a Cessna airplane, the same type as Valentich had been flying, actually stuck to the side of the object above him with a trail of oil leaking from it. He had even taken a moment to inscribe the plane's registration number on to his tractor but at the time he had decided not to come forward with the information because his friends had ridiculed him over it.
Lead investigator George Simpson and his colleagues are now attempting to track down the farmer because they believe that he may hold the key to solving the mystery of the plane's disappearance.
"Itís easy for some to dismiss, but there are corroborating stories confirming that there was a UFO near Adelaide at the time," said Simpson.
Source: Herald Sun | Comments (14)
Tags: UFO, Valentich