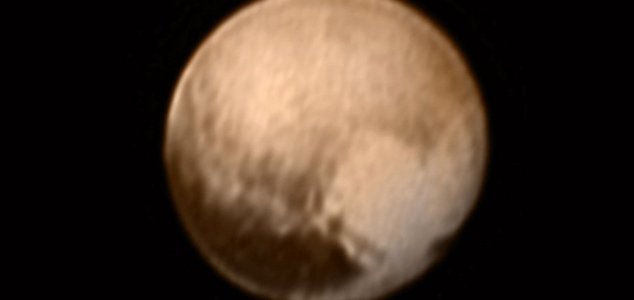 NASA has revealed the closest shot yet of this icy and distant world.

Image Credit: NASA
The latest photographs from New Horizons show a distinctive heart shape on the surface of Pluto.
Having fully recovered from its communications failure last week, NASA's New Horizons spacecraft is now just four days away from its historic rendez-vous with the dwarf planet.
The latest images, which were received from the probe two days ago, show Pluto in more detail than ever before with intriguing dark patches and a lighter region shaped a bit like a giant love heart.
"It's just juicier and juicier," said New Horizons scientist Hal Weaver. "The science team is just drooling over these pictures. If you look at the new pictures now, it's already five to six times better resolution than what we've been able to get before."
New Horizons is currently heading towards its destination at a speed of 31,000mph and will record so much scientific data as it flies past Pluto on Tuesday that it will take months to transmit everything.
The endeavor marks the first time that Pluto has ever been observed up close and each new photograph that is returned shows new detail that nobody has ever seen before.
With everything going according to plan the chances are good that we will get to see some impressive views of this distant and enigmatic world in the very near future.
Source: The Guardian | Comments (17)
Tags: Pluto, New Horizons