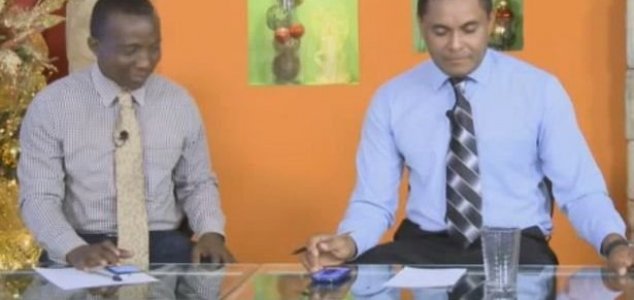 The presenters looked puzzled by the moving glass.

Image Credit: YouTube / MINHAS TV2 / Teleceiba
A glass was seen sliding across a table by itself during a live morning breakfast show in Honduras.
The peculiar incident took place during a show called Primera Edicion and happened right in front of one of its presenters - Carlos Molina - who seemed visibly shaken by the phenomenon.
The surface on which the glass was sitting appeared to be completely flat and the footage shows no obvious signs of manipulation by either of the presenters or anyone off-camera.
"Look, look, did you see the glass that moved over there ?" Molina says in the video to his co-host Pablo Zapata who is sitting in the chair right next to him. "The table isn't uneven. There's no slope."
According to reports, the baffled presenter later quizzed members of the production team believing that they'd been pulling a prank on him but everyone flatly denied having anything to do with it.
"I felt something strange in my body," he said. "What I felt was a supernatural phenomenon, a chill throughout my body before the glass moved. It left me traumatized."
"I tried to move the glass afterwards with my hands and it was stuck to the table."
Source: Irish Mirror | Comments (18)
Tags: Honduras, Glass