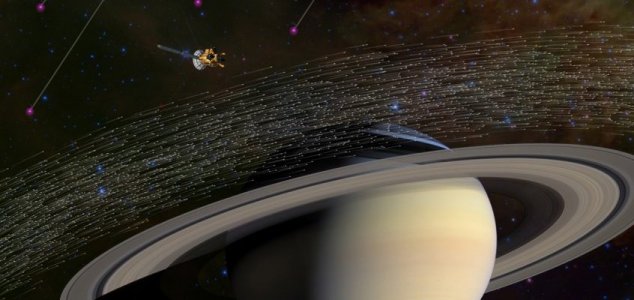 Cassini has been exploring Saturn and its moons for almost 12 years.

Image Credit: NASA/JPL-Caltech
NASA's Cassini spacecraft has picked up particles of dust originating from outside our solar system.
The bus-sized space probe, which arrived in the Saturnian system back in 2004, has achieved a great deal over the years and has taught scientists much about the ringed giant and its moons.
One of the instruments aboard the spacecraft is the Cosmic Dust Analyzer (CDA), a device that collects and examines dust particles such as those ejected by the geysers on Enceladus.
In its latest analysis however Cassini has picked up something altogether unexpected - 36 tiny particles that appear to have originated, not from Saturn, but from interstellar space.
"We're thrilled Cassini could make this detection, given that our instrument was designed primarily to measure dust from within the Saturn system, as well as all the other demands on the spacecraft," said Cassini fields and particles scientist Marcia Burton.
As well as picking up the dust grains, the spacecraft was able to conduct a compositional analysis - something that had never been done before on material from outside the solar system.
"The grains all had a surprisingly similar chemical make-up, containing major rock-forming elements like magnesium, silicon, iron and calcium in average cosmic proportions," NASA wrote.
"Conversely, more reactive elements like sulfur and carbon were found to be less abundant compared to their average cosmic abundance."
Source: Gizmag.com | Comments (6)
Similar stories based on this topic:
Tags: Cassini, Dust, Saturn