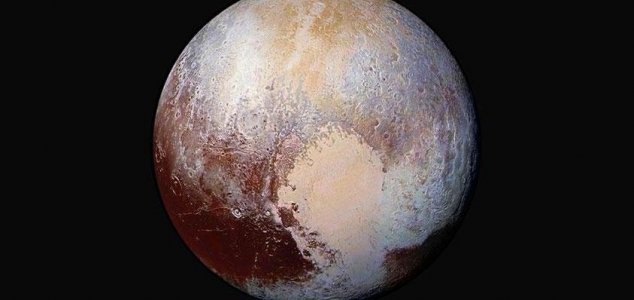 Pluto's ocean could be 10 times deeper than the oceans here on Earth.

Image Credit: NASA
Scientists believe that the dwarf planet's interior may be filled with large quantities of liquid water.
Pluto surprised everyone when New Horizons beamed back the first close-up photographs last year, revealing this distant, icy world to be covered in a wide array of unique and notable surface features.
"Pluto is showing us a diversity of landforms and complexity of processes that rival anything we've seen in the solar system," said New Horizons Principal Investigator Alan Stern.
In a new study published last week, researchers took a closer look at Sputnik Planum, a distinctive heart-shaped crater situated on the planet's midsection which has long proved intriguing.
Now the team believes that its unusual properties could be explained by the presence of a large ocean beneath the surface - one that could be up to 10 times deeper than Earth's oceans.
"If Sputnik Planum is indeed a positive mass anomaly - and it appears as though it is - this ocean layer of at least 100 kilometers has to be there," said Brandon Johnson, a geologist from Brown University who headed up the new study. "It's pretty amazing to me that you have this body so far out in the solar system that still may have liquid water."
Source: Gizmodo | Comments (13)
Tags: Pluto