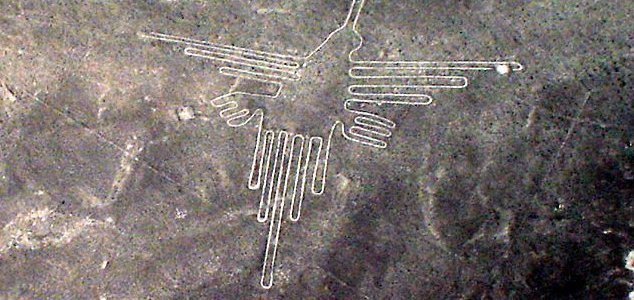 (Pictured) One of the most famous Nazca geoglyphs.

Image Credit: CC BY 3.0 Martin St-Amant
Archaeologists have succeeded in identifying several previously unseen geoglyphs in Peru's Palpa province.
Situated on a remote arid plateau in southern Peru, the Nazca Lines are a series of spectacular artistic designs, including images of spiders, monkeys, hummingbirds, fish and lizards, which were etched in to the desert floor around 2,000 years ago.
The designs were produced by removing the red colored pebbles that litter the desert to unveil the white dusty ground underneath.
Some of the drawings are huge and measure up to 200 meters across.
Now with the help of drone technology, Peruvian archaeologists have discovered a further 50 geoglyphs that are believed to date back up to 2,500 years.
The shapes had previously been missed by satellite surveys due to how thin the lines are.
"This is really a new age of exploration," said National Geographic 's Kristin Romey.
Source: Gizmodo | Comments (78)
Tags: Nazca Lines, Peru