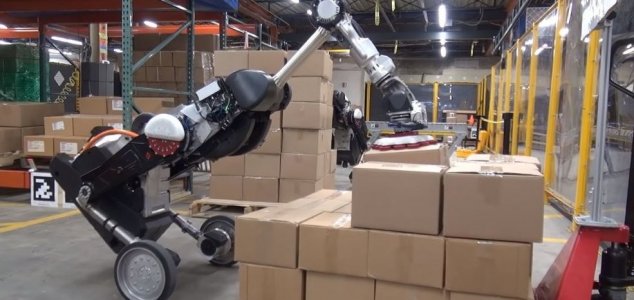 Robots are replacing human workers more and more.

Image Credit: YouTube / Boston Dynamics
Known as 'Handle', the US robotics firm's latest creation could one day completely replace warehouse workers.
The new robot, which has been described by some news outlets as a 'mechanical ostrich', is able to balance on just two wheels as it picks boxes up from one pallet and deposits them on to another.
Unlike some of the firm's previous creations, this one appears to have been designed specifically for use in a warehouse environment and could ultimately serve to automate jobs that are currently performed by human workers.
What makes it particularly interesting is its unusual bird-like design and sophisticated balancing behavior - an odd choice, perhaps, given that four wheels may have been more efficient.
Even so, there is no denying that Handle is an impressive machine and one that certainly wouldn't look out of place in a scene from a science fiction movie.
Source: Tech Xplore | Comments (38)
Tags: Boston Dynamics, Robot