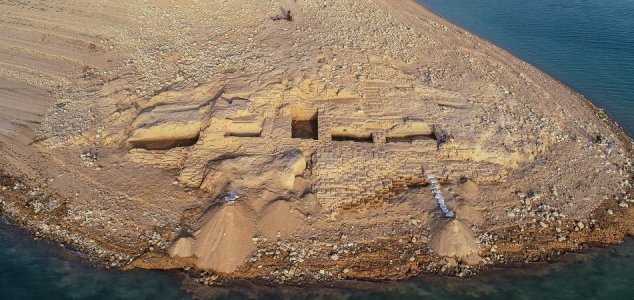 Image Credit: University of Tubingen Science Center / Kurdistan Archaeology Organization
A recent period of drought has exposed 3,400-year-old ruins in the Mosul Dam reservoir in northern Iraq.
The impressive site, which was first glimpsed after water levels started to go down back in 2010, finally become accessible to archaeologists after a drought hit the Kurdistan region last year.
Featuring walls up to 22ft high as well as a lavish interior decorated with painted murals, the palace dates back to the time of the Mittani Empire which dominated parts of Syria and northern Mesopotamia from 1500 - 1400 B.C.
The building was situated around 65ft from the Tigris river and sat on the bank overlooking the water.
Among the discoveries made within the ruins were 10 clay tablets inscribed in Mittani cuneiform - a very early form of writing that experts are now working to translate.
Early indications suggest that the palace may have sat at the site of the ancient city of Zakhiku.
Dr Hasan Ahmed Qasim of the Duhok Directorate of Antiquities has described the find as "one of the most important archaeological discoveries in the region in recent decades."
Source: Live Science | Comments (2)
Tags: Palace, Iraq