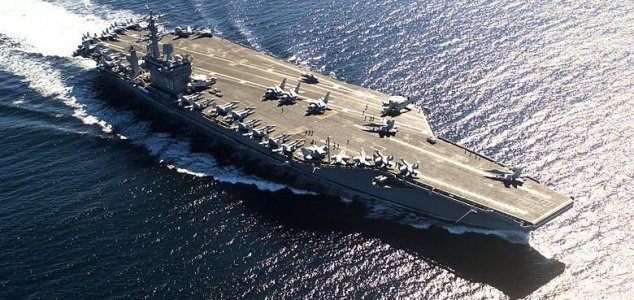 We have yet to see everything the US Navy has on the UFO incident.

Image Credit: US Navy
It turns out that the US Navy is withholding at least one video pertaining to the infamous 'Tic-Tac' UFO case.
Ever since it was revealed that the Nimitz Carrier Strike Group encountered a fast-moving unidentified flying object 100 miles off San Diego during a training exercise back in 2004, journalists and UFO researchers alike have been digging in an effort to obtain as much information about it as possible.
Footage of the UFO was later published in 2017 and subsequently confirmed to be genuine, however it is believed that there is much more about the incident that the US Navy is keeping under wraps.
Now after years of Freedom of Information Act (FOIA) requests to the Office of Naval Intelligence (ONI), one researcher - Christian Lambright - has finally struck gold (or potential gold at least.)
While most requests for information are simply met with silence, Lambright actually received a response after asking ONI to provide any additional videos or documents about the incident.
In the reply, officials confirmed the existence of such documents, but stated that it was not possible to release them to the public because doing so would cause 'grave damage' to national security.
"We have discovered certain briefing slides that are classified TOP SECRET," the response reads.
"A review of these materials indicates that are currently and appropriate Marked and Classified TOP SECRET under Executive Order 13526, and the Original Classification Authority has determined that the release of these materials would cause exceptionally grave damage to the National Security of the United States."
More promising however, was this additional comment about the existence of more footage:
"We have also determined that ONI possesses a video classified SECRET that ONI is not the Original Classification Authority for. ONI has forwarded your request to Naval Air Systems Command to make a determination on releasability."
So it seems that there is at least one more video of the object, but whether or not we will ever get to see it remains unclear.
As things stand, we'll just have to wait and see if Naval Air Systems Command agrees to release it.
Source: Hotair.com | Comments (137)
Similar stories based on this topic:
Tags: USS Nimitz, UFO