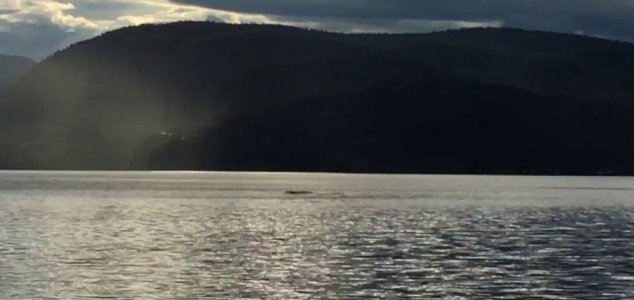 What did the pair spot in the lake ?

Image Credit: YouTube / Blake Neudorf
Recently released footage shows what looks like a large creature swimming in Okanagan Lake, British Columbia.
The video, which was originally recorded on July 10th, 2018, was uploaded onto YouTube this week by Blake Neudorf who had been fishing with his father in Okanagan Lake - a body of water famous for its Ogopogo lake monster - at the time of the sighting.
"The thing looks like it is close in the video but it was a few hundred yards off shore and it was huge, I would say at least 60 feet long you could visually see it rolling in the water," he wrote.
"During this video there was a small group of people videoing off-shore as well."
"Toward the end it goes into a small bay so me and my dad hopped in the truck and drove toward the area it was headed but when we got to the bay it was nowhere to be seen."
Ogopogo is typically described as a large serpent-like creature that has been sighted at the lake as far back as the 19th Century, although there remains no conclusive evidence of its existence.
Could this be what Blake and his dad filmed that day or is there a more conventional explanation ?
Source: Sputnik News | Comments (37)
Similar stories based on this topic:
Tags: Lake Monster, Ogopogo