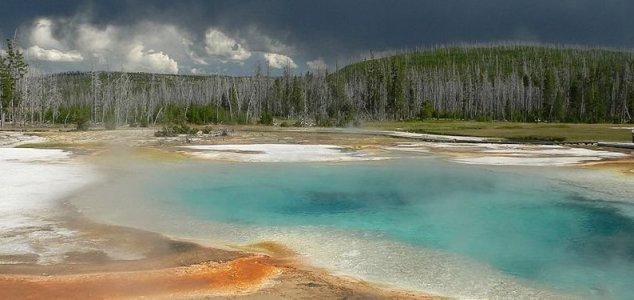 The best known supervolcano lies under Yellowstone National Park.

Image Credit: CC BY-SA 3.0 David Monniaux
Scientists investigating what causes a supervolcano to erupt believe that they've found the answer.
One of the most destructive forces on the planet, a supervolcano eruption is as deadly as it is unpredictable. While it isn't too difficult to determine that a supervolcano is forming at a location, knowing whether it will erupt in 1 year or in 100,000 years remains a challenge.
Now scientists at the European Synchrotron Radiation Facility in Grenoble believe that they've discovered the secret to what it is that sparks a supervolcano to erupt. Surprisingly, it appears that the sheer volume of magma alone is enough to trigger an eruption.
"We knew the clock was ticking but we didn't know how fast: what would it take to trigger a super-eruption?" said lead author Wim Malfait. "Now we know you don't need any extra factor - a supervolcano can erupt due to its enormous size alone. Once you get enough melt, you can start an eruption just like that."
Source: BBC News | Comments (11)
Tags: Supervolcano