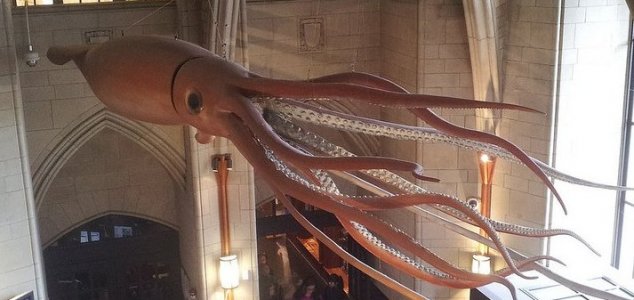 Several giant squid have been fished up already this year.

Image Credit: CC BY 2.0 Dan Century
A rise in giant squid numbers along the Japanese coast has left fisherman feeling a bit nervous.
The discovery of a giant squid, one of the largest known sea creatures, is usually considered to be a rare occurrence, yet Japanese fisherman seem to be catching these denizens of the deep on a more and more frequent basis.
Back in January two of the creatures were caught within the space of four days, one near to the Himi fishing port and the other off Sado Island. Three more caught in the region were believed to measure at least four meters long while another fished up near the town of Iwami was believed to be almost double that size.
"When I hauled up the net, the squid slowly came floating up," said fisherman Shigenori Goto who found a four-meter squid caught up in his fishing nets off Sadogashima Island. "I had seen no giant squid before in my 15-year fishing career. I wonder whether it may be some kind of omen."
Experts believe that the squid may be more prevalent this year due to colder temperatures that are forcing the animals in to the shallows in search of warmer water.
Source: Independent | Comments (12)
Similar stories based on this topic:
Tags: Giant Squid, Japan