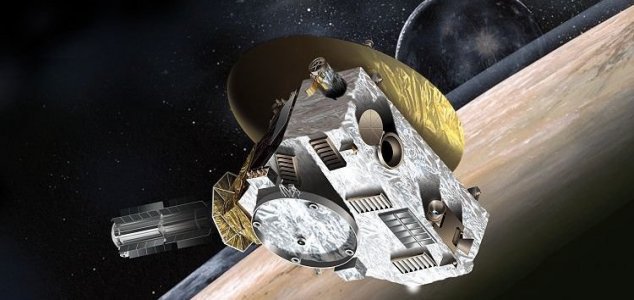 New Horizons will arrive at Pluto in July of next year.

Image Credit: NASA
A new theory suggests that Pluto, like Europa and Enceladus, may be home to a liquid water ocean.
Its small, its distant and we don't know a whole lot about it, but in July 2015 NASA's New Horizons spacecraft will provide us with the first direct look at Pluto and help to answer some of the enduring questions that still surround this tiny, enigmatic world.
One thing that scientists are particularly interested in is whether Pluto possesses a subterranean ocean of liquid water, something that could have been made possible thanks to the heat produced during the collision that formed its moon, Charon.
This same series of events may have also given Pluto a temporary tectonic system, something that scientists will be looking for evidence of when New Horizons arrives next year.
"It would probably be surprising if we didn't see tectonism," said geophysicist Jeffrey Moore.
Source: ABC.net.au | Comments (16)
Tags: Pluto, Ocean, New Horizons