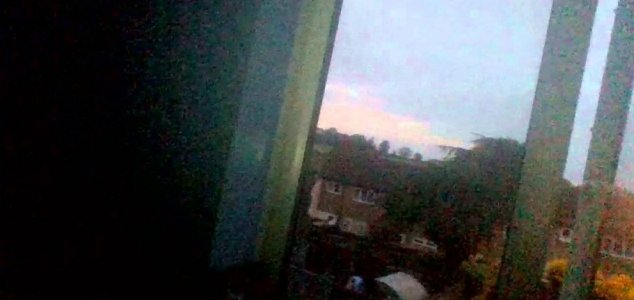 What did the girls see ?

Image Credit: YouTube / SWNS TV
11-year-old Katie Real and her sister Macie spotted something unusual from their upstairs window.
The girls had been playing about on their mother's laptop when they noticed a bright light moving around in the sky above the houses in the distance. Eager to capture the spectacle on camera, Katie took the decision to start filming it using the computer's webcam.
"I was looking out of my window and a large glowing ball of light caught my eye," she said. "It was moving very fast. I just grabbed my computer and started filming it."
The sisters had initially believed the object to be a shooting star, but its erratic movements soon seemed to suggest otherwise. After a few minutes it turned red and disappeared behind the houses.
"When she showed it to me I was amazed," said the girls' mother, Fiona. "Initially we thought it could be a plane on fire but it appeared to be dancing across the sky. It was an amazing sight."
Source: Metro | Comments (79)
Tags: UFO, Fireball