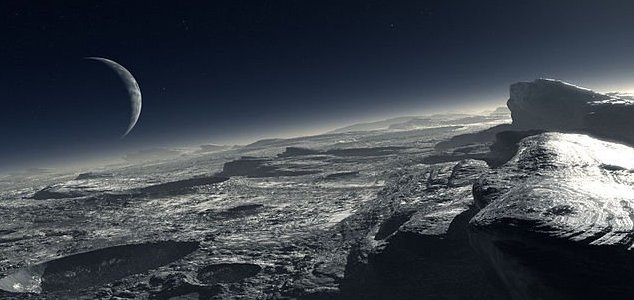 An artist's impression of the surface of Pluto.

Image Credit: CC BY-SA 3.0 ESO
The New Horizons spacecraft has managed to capture the orbit of Pluto's largest moon like never before.
With just under one year left to go before its historic flyby of the distant dwarf planet, NASA's New Horizons spacecraft has been able to focus its long range cameras on its destination from over 265 million miles away and record a series of photographs showing Pluto's moon Charon orbiting around it.
The images represent the closest and most detailed views of Pluto to date and scientists are promising much clearer shots in the months to come. Once New Horizons finally does reach its destination the world will be treated to the first close-up photographs of Pluto ever taken.
"The image sequence showing Charon revolving around Pluto set a record for close-range imaging of Pluto - they were taken from 10 times closer to the planet than the Earth is," said principal investigator Alan Stern. "We are really excited to see our target and its biggest satellite in motion from our own perch, less than a year from the historic encounter ahead!"
Charon is only one of five moons in orbit around Pluto but is by far the largest at 750 miles across which is actually more than half the diameter of the planet itself.
Source: Space.com | Comments (11)
Tags: Pluto, Charon, New Horizons